Modern Project Management in few easy steps with Kendo Manager Software Tool
The primary purpose of project management software tools is to help project managers plan, execute and control all aspects of the project management process. Often a question that is imposed on each modern company or firm is how to improve work and increase productivity in its organization. The answer is simple, using modern project management software tool.
When company works on multiple projects that are implemented at the same time with a larger number of employees working on them, often with need to engage external associates that can be located in different geographic locations, there is necessity for modern centralized information management system for project management. What is needed is centralized project management and control system for its implementation.
The centralized control of projects must be simple clear and easily accessible. It should contain simple and clear management with all project activities, human resources, material and financial resources, to provide insight into all changes, problems and risks on projects.
Kendo Manager is a Project management software tool that provides the possibility of centralized and multi-project management in a few simple steps.
Kendo Manager's multi-project management concept is based on the use of automated Dashboards on 3 levels (project team member, project manager, company director or top manager) which provide quick insight into project activities, tasks and processes in real time.
Three levels of project management in Kendo Manager Software tool
My Dashboard 
My Dashboard provides the employee with a complete and quick overview of all activities on projects assigned to them. One click allows the access to all assigned project tasks. For a simpler overview, project assignments are grouped into lists that are automatically updated depending on the deadline and changes that the project manager defines.
Each project process (activities, problems, changes, risks, and key events) have its own section in which duties of each person are displayed on one of the task lists.
The "Today" list shows all project assignments with a deadline for today. All assignments which expire in next 7 or less days are shown in the "Soon" list.
"Deadline Expire" list shows all tasks that have expired for the scheduled deadline for their implementation.
The "Finished" list shows all tasks that have been completed and which the project manager on the project has marked as completed.
My Activities List, My Risks, My Problems, My Changes, and My Key Events show all project tasks on the projects that are being worked on.
All sheet content can be searched and sorted, while lists are automatically updated. If the process is deleted or delegated to another member of the project team for implementation, it will not appear on one's task lists. If the project is deleted or archived, it disappears from employees control panel as well as its project processes.
Project overview
The project overview is intended for the project manager on the project. In this way, the project manager has a quick and easy overview of the current state of the project and the current status of project tasks delegated to the members of the project team.
Due to the quicker and easier insight for the project manager, project tasks are grouped on the lists Today, Soon, Deadline Expired and Finished which are automatically updated depending on the deadline and changes defined by the project manager on the project.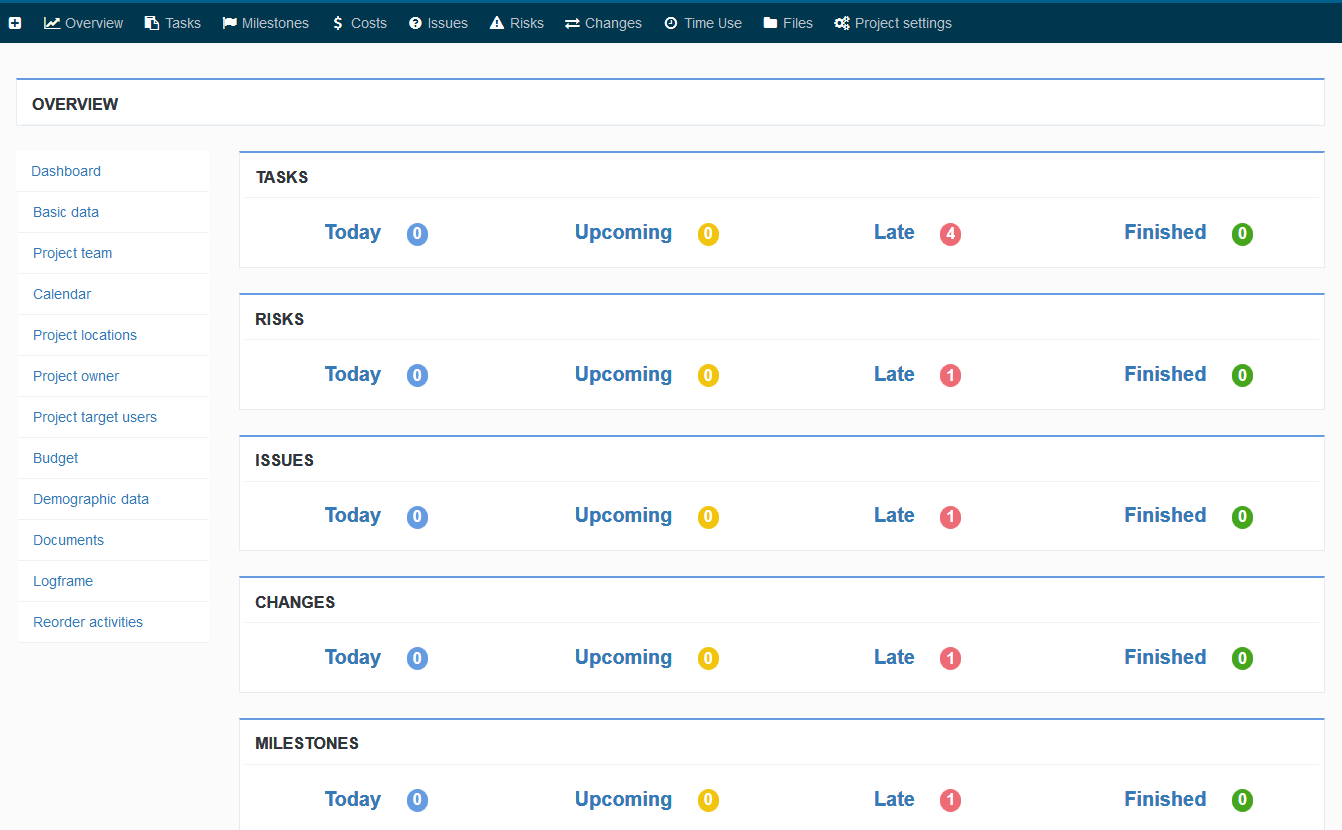 Dojo – multi-project dashboard
With the new Kendo Manager Dojo, you can easily manage multiple projects simultaneously in an easy way.
Dojo simple dashboard control panel allows monitoring of all active projects and all active project processes. On Dojo Dashboard you can find the following overviews that are important for your projects: project activities, problems and changes in the project, risks, key events, total costs and total time spent for the realization of your company's projects.
Dojo is intended for the company director or project manager who manages multiple projects at the same time.
All Lists (Today, Soon, Expired Deadline and Completed) on the Dojo Dashboard are automatically updated. Dojo shows all active projects and all active project processes. If a particular process (activity, problem, cost, etc.) is deleted on the project, it is no longer shown on the lists. If the project is deleted or archived, all project processes associated with it are no longer shown on the control panel.
Kendo Manager Dojo option is a simple and convenient method for tracking all active projects and project activities in real time.
Lists, All Tasks, All Risks, All Problems, All Changes and All Key Events shows all processes of active projects. The contents of these lists can be sorted and searched.
What are the benefits of modern project management
Project management brings many benefits to organizations and companies that implement the standardized methodology instructed by the world's leading project management organization – Project Management Institute (PMI).
Modern project management needs a project managers who need how to efficiently use Project management tool like Kendo Manager.
Efficient and centralized project management in the company requires the use of project management software . Kendo Manager, Project Management Software Tool contributes to better communication between your employees, contributes to better control of your costs, better organization of human and material resources, and provides full control over your projects at any time, in a simple and a few easy steps.