Free MS Project Alternative to Manage Your Projects?
Need a paid or free MS Project Alternative?
Good ms project alternative is hard to find, even hard to find some project managing tool that does not cost a small fortune. We have seen so many times  smaller teams  need powerful, but  free MS Project alternative, but are unable to afford one. This often happens in smaller companies , or in startups that wish to make their dreams come true. Often smaller governmental institutions,NGO and local town administrations are not also able to afford bigger and expensive solutions as they are in strict budget guidelines.
 What is MS Project?
MS Project is a desktop project management software that helps one in managing the project from start to finish. It is a software that has been around for over 30 years and has been used by many organizations to help them manage their projects.
Projects in Microsoft Project are organized into three main views: the Gantt chart, the Task view and the Resource view. The Gantt chart displays a project schedule in graphical form, showing tasks and their assigned resources over time. The Task view displays task information in list format, including task name, duration, start date and assigned resources. The Resource view displays resource information in list format, including resource name, cost rate per hour or day and assigned tasks.
10 Reasons Why MS Project is Outdated
The 10 reasons why MS project is outdated are:
1. MS project is desktop solutions
Microsoft Project works only on Microsoft Windows. MS Project is a desktop solution. It doesn't work on mobile phones, tables or mac.
2. Lack of mobile app
The lack of a mobile app means that you can't access your data on your phone. This makes it hard to manage projects on the go or when you're not at your desk.
3. Limited customizability
You can only customize MS Project in a few ways so if you need something more complex than you have to use another software that offers more flexibility
4. Too complex and unintuitive software
Scheduling in Microsoft Project is very complicated . MS Project requires training before they can be used. Scheduling in Microsoft Project is very complicated, and even after professional training, users do not know how to use the many options in the right way.
5. No alerts or email reminders
A lot of people are not happy with the minimal notification options that Ms Project offers. This has led to a lot of confusion and frustration in the workplace.
This is because most of the time, people need to remember to manually check their project for new alerts or emails. This can be difficult for some people who have a busy schedule and cannot always go back and check for updates.
 6. No collaboration or file sharing
This is a project management software with no built-in collaboration or file sharing.No collaboration or file sharing is one of the major drawbacks of MS project. The task comments and upload feature are not in use, meaning content creators must switch to other software. Some just aren't used to how things work nowadays.
7. No tracking of issues, risks or change requests in MS Project
Issues, risks and change requests are not a priority in the MS project. You have to create them as tasks. You must use other software, and the most common has been to use MS Excel for risks and change management and some issue tracking system for tracking issues.
8. No dashboard, and not easy to report.
The Microsoft Project has a lot of features, but there is no dashboard.
The lack of a dashboard in MS Project makes it difficult to report on the progress and status of projects. It also makes it hard to identify potential problems that may arise.
In Microsoft Project, there is no easy way to do Reports. Reporting is difficult and requires additional tools like Power BI.
9. Difficult to work with multiple projects
With so many problems for one project, it can have a negative effect on the other projects, resources and work.Especially when there are dependencies between projects or when resources are shared between various projects .
10. It's expensive
Many people think that the price of MS project is too high. Project Professional 2021 desktop application costs $1129,99  for 1 license for 1 PC, And Microsoft project do not even have collaboration features.
 What is a good alternative to Microsoft Project?
Microsoft Project is an effective tool for project management but it is not the only one. There are many other alternatives to this software that can be just as good and even better for your needs.
Which MS Project Alternative Should You Use?
Looking for MS Project alternative solutions has become a very popular trend in the last few years. Why are companies looking for an alternative to Microsoft Project? The answer is quite simple. Price is the main reason, because the MS Project desktop professional license costs $1129,99. Kendo Manager is a Self-hosted project management software that reduces company costs per employee. The company can save thousands of dollars using Kendo Manager as an MS project alternative solution.
How to company save money with MS Project Alternative
If your company plans to buy more new copies of Microsoft Project, it is logical to ask yourself after looking at pricing:
"Surely there is an alternative to Microsoft Project that can get the job done, right?"
For that reason, most companies think rationally. I have 10 employees, and I need 10 licenses for MS project. MS project is a complex and complicated project management software and companies also need to educate employees to work with a microsoft project, which requires additional costs for the company. Company has an initial cost of $ 15,000 per 10 employees in the company. In practice, most employees use only a part of the MS project options.The reason is simple, they do not need them to perform their tasks successfully. On the other hand, you have Microsoft project alternative solutions that are less complicated, they are less expensive than MS Project and do not require additional paid education.
Kendo is a great MS Project Alternative because it can be easily implemented in Existing windows infrastructure of small, medium, large, and Startup companies at no extra cost .
One of the great advantages is that Kendo works in the online cloud and you can install it on Windows VPS or ASP hosting. You can also install Kendo on your local Windows server or Windows 10 PC.
Kendo Manager is a great alternative to Microsoft Project that can save the company money and reduce costs.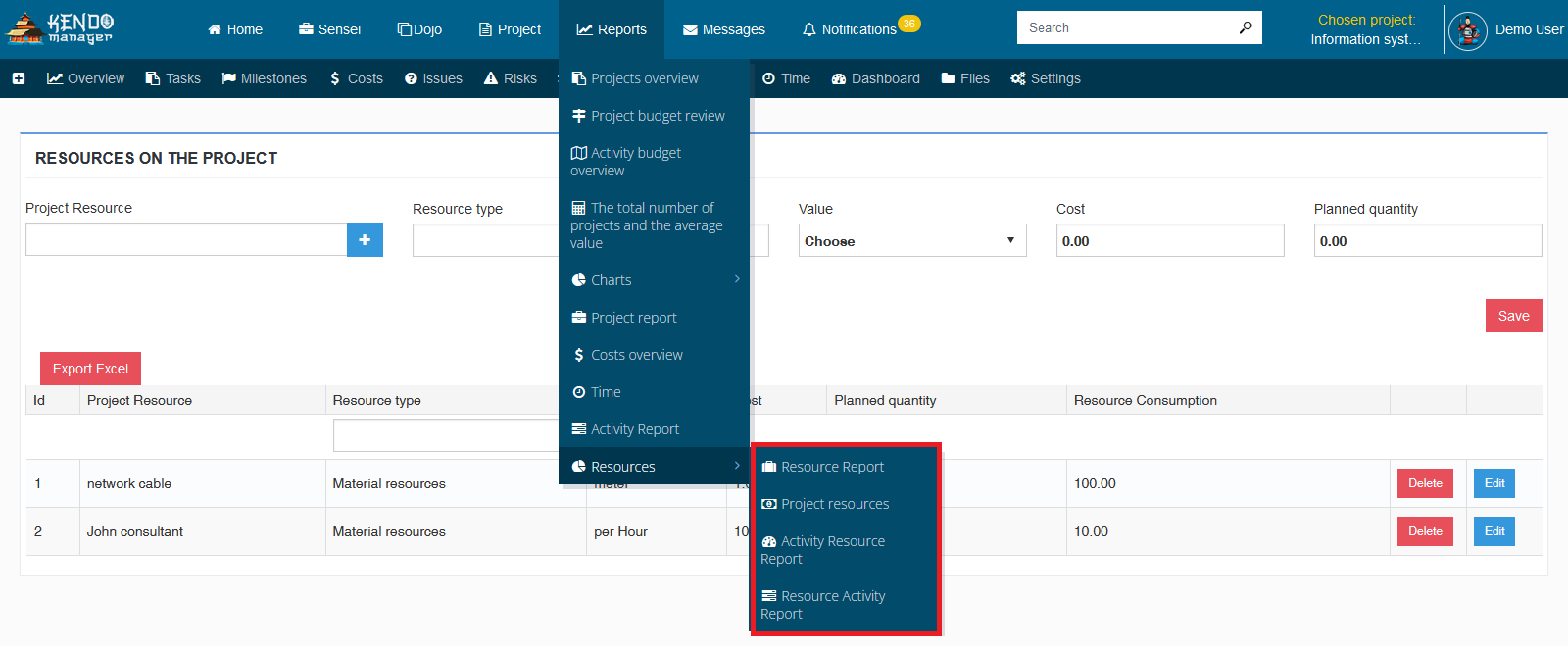 Self-Hosted Free MS Project Alternative
Microsoft Project is not available as a self-hosted solution but Kendo is. Kendo Project Manager is the most popular MS project alternative for all users that want to host a solution on premise.
Take a tour of Kendo Manager and learn how Kendo helps you organize your work more efficiently. No other Microsoft Project alternative offers enterprise functionality in such an easy-to-use package.
How Kendo Manager Compares to Microsoft Project
Kendo Manager is one of the most recommended Microsoft project alternatives for the small and medium company. Kendo Manager Enterprise features include:
Communication,
and much more.
Kendo Manager consists of several modules that help you plan, monitor and execute a successful project. Life cycle of a project can be monitored from several dashboards available to project managers, team members and stakeholders on the project:
Dojo – a dashboard to see all projects and project activities
Project Dashboard – a project manager place to oversee all the projects
My Dashboard – single project team member dashboard for their responsible activities
With the flexibility of many modules, Kendo Manager is project management software that is simple to use yet powerful enough to take on the hardest projects available. As the best free Microsoft project alternative many find this tool interesting for their projects.
Which Free MS Project Alternative Should You Use?
Kendo Manager is one of the most popular free MS Project Alternative. Kendo is a free downloadable Self hosted project management software for students, startups, and companies.
Kendo is a free enterprise project management software of the full functionality. Is available for everybody to grab.  As we wanted to give everybody an opportunity to have a great tool for project management, we made a free ms project alternative version that comes with all Kendo Manager options. We offer a FREE Project Management Software version of Kendo Manager for 10 active users and 1 active project.
However, if you have a bigger team at disposal, and wish to manage several projects at the same time, it is quite an easy process to buy a license key and switch to paid version of Kendo Manager, with unlimited number of users and projects.
Free Features of Kendo Manager
Free Powerful Dashboards
Monitor all active projects and all active project processes from a single dashboard.
All overviews that are important are easily viewable, including project activities, problems and changes in the project, risks, key events, total costs and total time spent for the realization of the company's projects.
Free Task Management Any Way You Like
With a simple task list and in-depth progress charts, you are able to see at a glance the most accurate view of your project's progress possible in real-time.
Monitor and record progress
Assign team members
Allocate resources
Upload documents on task
Leave comments
Free Kanban
One of the most effective ways to visualize your workflow and enable your team to gain control over what is to be done and what is currently being worked on is a Kanban board. This system allows you to organize tasks by their status, make it easy for people on your team to see where they can jump in and lend a hand, and helps you identify bottlenecks before they get the chance to cause a problem in the future.
Planning flexibility
Shortened time cycles
Fewer bottlenecks
Visual metrics
Free Gantt Chart
Simplify your tasks and details with a visual project timeline that includes task names, start and end dates, duration, and progress bars.
Visualize your project goals
Share Gantt charts with team members
Keep track of project schedules
View tasks relation
Track project progress
Traditional, Agile or Scrum
Kendo Manager gives your small or medium-sized business an Agile Project Management platform that offers significant flexibility.
This enables  you and your team to cover a variety of projects in various fields and methodology, from administration teams to NGO projects, marketing projects, software development projects and many more.
Free Collaboration
Share documents and other files with co-workers, align on a common agenda, assign tasks, send messages, leave comments, and more with the help of Kendo Manager.
Free Resource Management
With Kendo's strategic planning, you can use limited resources such as people, materials, facilities, in a more effective way
Free Time Management
Kendo Manager is the leading project management software for startups and enterprises. It provides a complete project workflow that lets you set deadlines and manage tasks, clients, and team members effortlessly. The platform also includes a time tracking tool that will help with estimating costs and billing, so you can improve the way projects work.
Free Budget Management
Through Kendo Manager you can monitor and oversee costs, as well as stay on top of deadlines. Making use of these features will help your project complete more efficiently.
Free Issue Tracking
The Kendo Manager may be used to manage issues on the project, assign it to members of the project team, and create a connection with a certain task on the project.
Free Tracking and Monitoring
In one-click, Kendo simply gives you  insight into all the relevant information in one place.
Kendo is great for project management because you can view everything on one dashboard. You can also monitor your most important projects.
Free Risk Management
Kendo makes identifying and managing risks in the project plan an easy process. You can also calculate all risks at any point during a project and minimize any potential problems that may affect a project's timeline.