What Makes Best Free Project Management Software?
Are you looking for an efficient free project management software that is absolutely free of cost?
Do you want a software that is simple yet powerful as the Microsoft Project or Microsoft Project Server and also less expensive with unlimited project and unlimited users?
Kendo Manager is an innovative and reliable choice for project teams, project managers, and companies. It is a best simple project management software that will streamline your project life cycle. Whether you are a startup, a multinational company, a small scale business, an NGO or a Government institution, Kendo Manager a project management software will help you organize all your projects, your team and enable you to run and manage your projects from your device, weather a laptop or your smartphone for free.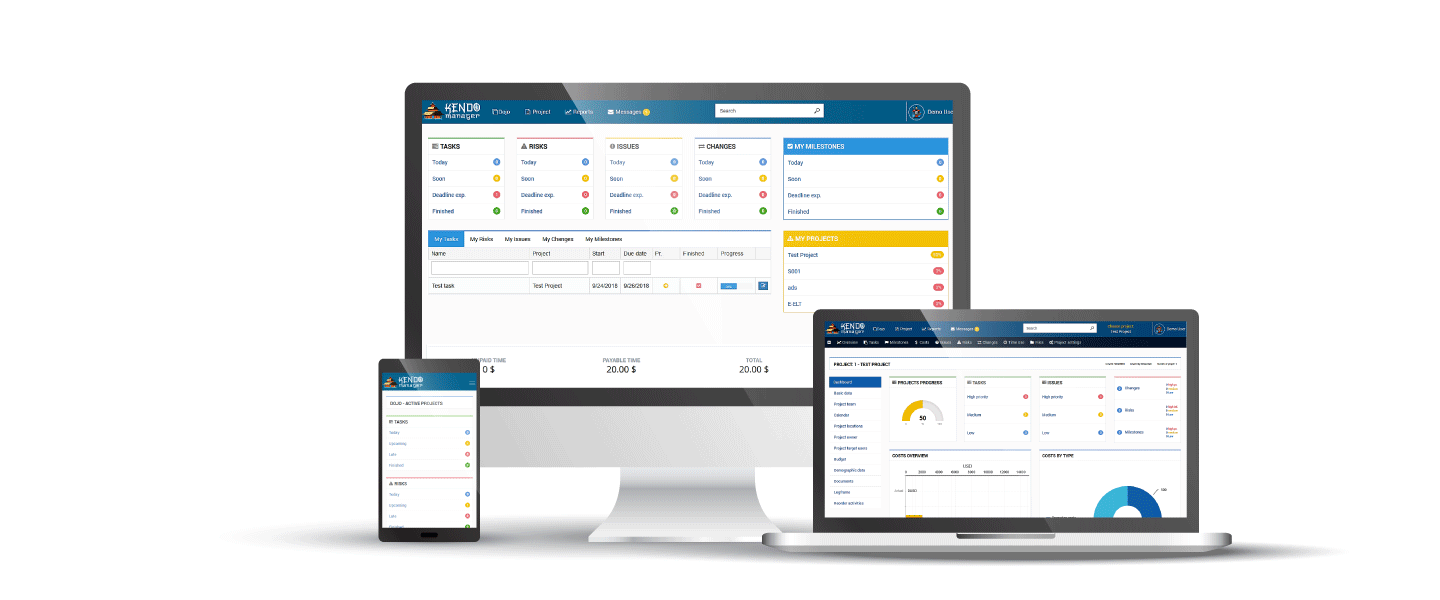 Free Project Management Software For Small Business
Have you tried working on a project without project management software?  A small wrong step in a plan can overturn almost everything in project. All your hard work and strategy can be wiped. To err is human and not all Small businesses can survive these mistakes. Research by Gallup News found out that only 2.5 percent of businesses see their projects successfully completed. Will yours projects fall into the wrong side of the statistics? Don't worry we have solutions for you and your projects.
The best Free project management software for small business is Kendo Manager with its powerful features and functionalities. Kendo is a highly-customizable system that suits growing small businesses and streamlines workflows through task management and better communication.
How Free Project Management Software Helps You Grow Business?
Kendo Manager is an efficient free project management software that is entirely based on Gantt charts, Kanban board, task lists and project dashboards. Kendo Manager is designed to help project managers and teams to centralize their project details. It allows managers to run multiple projects with ease and efficiency. What's unique about Kendo Manager is that it offers agile project management capabilities together with other free project management features, including issue tracking, collaboration, budgeting, resource management, learning and support, task management, reporting and much more.
Kendo is exclusively created for small and medium-sized businesses that provides companies, teams, and project managers a platform that makes interaction, collaboration, and status updates of every project easier. Kendo Manager is a complete and ideal project management software solution for startups and small to mid-sized businesses. The software has been helping companies complete their projects faster and encourage cooperation among all team members in any situation.
Avail the FREE version of Kendo Manager and streamline all your business projects!
Traditional Project Management
Budget and Expenses
Notifications
Customization
Agile Project Management
Collaboration
Task Management
Kanban board
Gantt chart
Time Management
Change Management
Risk Management
Resource Management
Reporting
Issue Tracking
Learning and Support
Free Project Management Software Advantages & Benefits
Kendo Manager gives small and medium-sized companies an agile project management platform that provides them significant flexibility, allowing them to cover a variety of projects in various fields, from administration teams to NGO projects, software development projects, marketing projects and many more projects.
Kendo Manager is an enterprise-level project management software that is affordable and fits even small budgets. We tailored Kendo Manager to the needs of small to medium-sized project teams.
It is a web-based software and also provides the option of installing it on your own infrastructure as the main project server, letting unlimited number of users to communicate and work together.
It enables project managers to perform project management tasks even when they are on the go. They can manage their resources and personnel, create and implement budgets, view and set schedules, plan projects, and also communicate with other members of the team, as well as, clients from their mobile device.
It gives you total control over all your project tasks and project activities.
Sign Up Now and Unlock Kendo Manager for Multiple Projects and Team Members