Project management- What is it?
In order to define project management, it is necessary to first define what a project is. Everything that has a beginning, an end and brings results is a project. Therefore, project management is a way and method by which a project can be planned, monitored, controlled, analyzed, reported or simply said managed.
Planning, scheduling, task management, resource management, risk management, and more are disciplines  which are covered by phrase "project management". The persons responsible for supervising the projects are the project managers.They develop a plan that should meet stakeholder expectations and bring together the project team. The project manager afterwards observes, controls and analyzes all the steps that led to the implementation of the project til a quality result is achieved. This is often done with the assist of project management software.
What is project management software?
Project management software is a platform that assists managers in planning, monitoring and reporting on projects. By using project management software, teams can easily manage their work and collaborate. Good software empowers project teams so they can easily manage all the details that make a project successful.
If you need help managing your projects and you are looking for a better way to manage tasks and teams, take advantage of the free trial of kendomanager.com today. Our project management software has a range of tools such as Gantt Charts, Kanban Boards and various dashboards, so projects can be easily tracked and completed on time and on budget.
Project management life cycle
Because projects have a beginning, middle, and end, they all go through 5 key project phases. If you manage to understand all these five stages, you will eventually have a good understanding and knowledge when it comes to project management.
The phases are described below.
Initiating or starting a project
This is the beginning of your project. This phase usually starts with analyzing a business case. In it, you develop an idea and compile a charter project, a document that specifies exactly what the project will provide and how you will get there. If feasibility testing is to be done, this is the phase of the project in which it will be completed. This phase of the project culminates in a meeting where you bring together your team, stakeholders and other relevant parties to better define and determine your project goals, schedule and processes, such as the communication process and the communication chain.
Planing
In the next stage, you plan the work by dividing it into smaller parts and estimating how long it will take to complete.The result of this is your project plan, which is often displayed using a Gantt chart that represents the order of tasks and their interdependence. This gives you a roadmap for work until the project is completed.
Implementation
At this stage, the main part of the work happens. Now that you have a project plan, it's time to execute it. Along the way, you will monitor and control the work to make sure you stay on track when it comes to budgets, schedules and quality performance. You will also work on identifying and mitigating risks, resolving problems and implementing any changes.  Also, the main part of the task of the project manager happens at this stage.
Closure
Project work should be carefully closed in order to make the most of the results achieved and ensure the transfer of experience gained to the teams that will have most benefit of it. At this stage, you will receive a feedback from the users for the completed job, complete all paperwork and reports, and hand over all jobs to another team, such as the operations management team.
How to manage a project: A step-by-step guide
Project life cycle is a term in project management that describes techniques that allow a project manager to divide a project into several phases. In most situations, practice shows that the project has more than five key steps in project realization.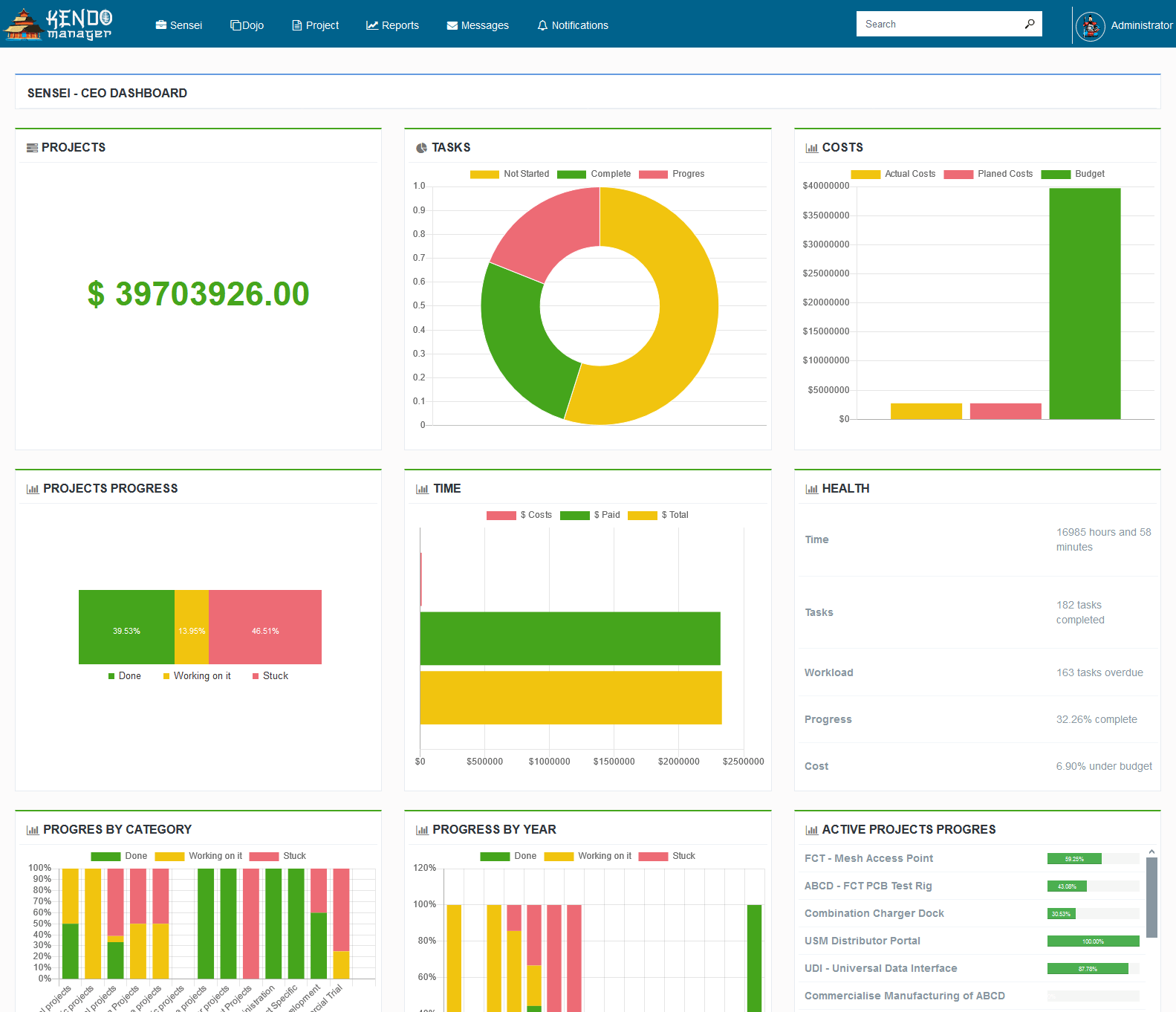 To manage the project without problems, it is recommended that you follow these steps:
Start-up phases
Documentation
Each project has documentation that needs to be completed before a project can be seriously launched. For example, there are cases in practice, which state the reasons why a project is needed and what the return on investment will be. An important role in the assessment is played by the feasibility study on the basis of which it is determined whether the project is possible at all considering the resources of the organization.
Considering the amount of paper required before running a project, all the documents you will collect during the project, and the need to eventually archive everything after you close the project, it is crucial to have project management software that can collect all these files and make them easily accessible.
Assemble the project team
For the realization of any project, you need resources for its execution. Before you make a project schedule, you need to create a project team with certain skills and experience that the project requires. This includes making a job description, what the goal is and what their responsibilities will be in the project. You can put all this information later in your project management software.
Setting up a project office
A project office is a physical space that is usually set up for a project manager. Determining the location where the office will be located is part of the initial phase of the project. This space will house not only the project manager (project manager), but also all support staff. Therefore, the infrastructure for the project office should be established, which includes the possession of project management software and all the necessary equipment for the project.
Planning phase
Creating a list
Work assignments or activities are smaller jobs that are built until the final delivery in the project. These are basically micro projects. You develop a list of tasks (activities) or WBS by putting the final project at the top of the work breakdown structure, which is a tree diagram that helps you map the path to project completion without missing vital steps along the way.
At this point you have a list of activities or tasks and you can set priorities so that tasks can be filtered by high, low or medium priority.
Make a project budget
Tasks cost money. They require team members to execute and engage other resources, which may include materials, tools, etc.Budget is a way of estimating and predicting project costs.
Once you have a planned budget, you can add it to kendomanager.com and then compare it to the actual cost of your resources while executing the project. Further, this data is redirected to real-time reports and dashboard, so you will never be unprepared if costs increase.
Risk management plan
There is no project without risk. Sometimes things just happen, there are always changes, some are under your control and others are out of it. Before starting a project, you must try to identify the risks and have a risk management plan, as well as risk monitoring and quick response to them.
Communication plan
Good communication means a successful project. If you have a clear and established communication plan, it means that you have targeted the people who need to be informed, what level of information they need, the frequency and how they will get it.
Creating project schedules
Gantt chart is the preferred method used by project managers to plan their projects because of the way they are set up. A Gantt chart is a graphical representation, like spreadsheets, that also has a timeline. Gantt not only displays all your tasks, but these tasks are also displayed through the timeline, so you can visually see the whole project at a glance.
Some tasks depend on other tasks before they can be started or completed. Tasks can also be dependent on tasks that can create bottlenecks later in the project. By linking tasks on your Gantt chart, you have the opportunity to avoid slowing down the task schedule itself due to unforeseen circumstances. Projects can also be divided according to the key events represented by certain symbols, which mark the end of one phase and the beginning of the next.
Assigning tasks
Tasks are just ideas until they are assigned to a member of the team for execution. All the preparation you put into planning depends on assigning the team that task so that they can do what they are hired to do.
Execution phase
Task management
To ensure that the task is performed correctly, it should be managed in every step, from planning to completion. This includes monitoring and reporting to ensure that the task is executed within the time frame planned by the schedule. Project managers and team members need to manage their tasks. Task lists (activities) and kanban boards are two popular project task management tools.
Time management
Once you have planned the schedule, you must monitor it during project execution to make sure everything is going according to plan. Efficient time management means higher productivity. At the very beginning you set yourself goals, priorities and deadlines, now as the project tasks are executed, it is crucial to make sure that these dates match your schedule.
Cost management
When planning the schedule, you also planned the project budget. But that doesn't mean your job is done. Anyone who runs a household budget or deals with finances knows that money has a tendency to disappear. You need to constantly monitor project costs and keep them within the agreed budget.
Your budget is the core value by which you will measure your actual spending's during the project. There are several ways to track actual costs. With Kendo Manager, which gives you the ability to track how much you actually spend, you can compare the data obtained with your budget.
Quality management
You can deliver your results on time and on budget, but if quality is lacking, the project is not successful. For this reason, you must be sure that you meet all the quality requirements set by your stakeholders in the project.
When executing a project, maintaining delivery quality means having tools like kendomanager.com to monitor the process. Our dashboards (Project Dashboard, Personal Dashboard, and Dojo Portfolio Dashboard) offer you the necessary real-time tracking metrics, so when a problem occurs, you can catch it and resolve it quickly in order to maintain the quality of your delivery.
Change management
In general, change management is the process of improving business processes, budget allocation, and business in general in an organization. However, when applied to project management, the focus narrows to the project itself and controls changes in scope during the execution phase.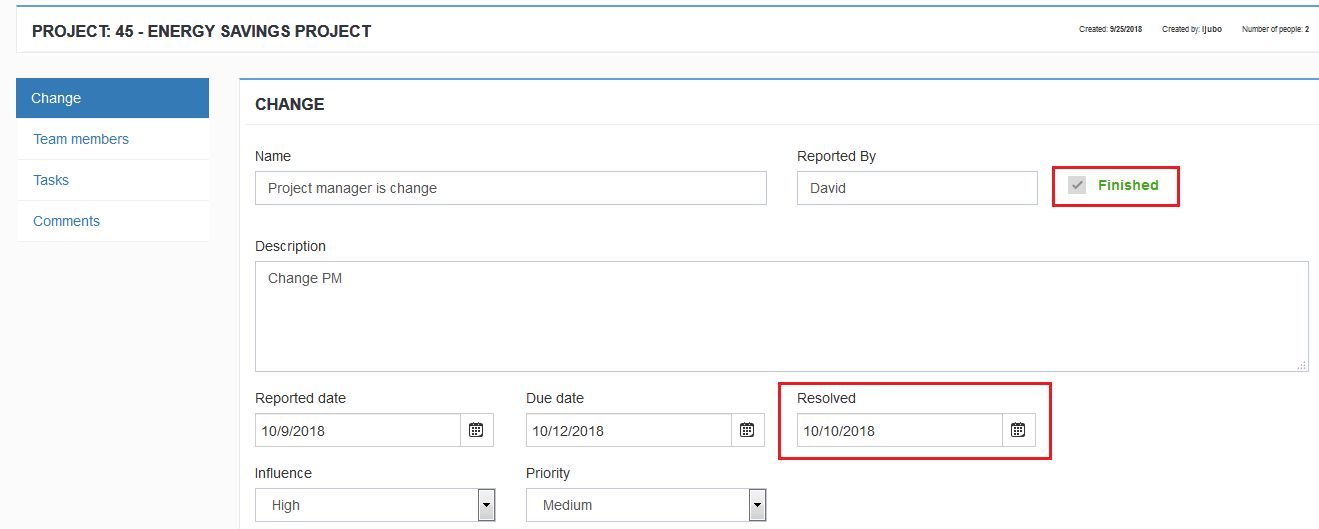 Procurement management
There are few projects that can be carried out without purchase, lease or contract with external resources. This process is called procurement. Managing various relationships with suppliers is called procurement management.
Resource management
Resources are all you need to execute a project. This includes your team, supplies, equipment, materials, etc. It includes the roles and responsibilities of the team, what they will need and where they will work.
Cooperation
Once the project implementation starts, team members must have the tools to work together and stay in close communication. This can lead to greater productivity and collaboration that can be facilitated if tools that are used connect team members, whether they are in the same office or work remotely.
Supervision and control
During project execution, constantly monitor its progress from all angles and try to control the process in order to maintain the schedule and budget of your project plan. We can summarize this technique as a constant check of the realization of your project in relation to the planned performance. When anomalies occur, quickly identify and correct them to maintain control of your project.
There are many project control techniques and these are just some of them:
● project strategy,
● methodology,
● risk management,
● quality and resources…
Reporting
Reporting has a twofold impact on the project. One is that it allows project managers to monitor progress, and the other provides data to stakeholders through  presentations that keep them up to date with project implementation. Project reports can vary from task progress to deviations and costs.
In Kendo there are reports on project and portfolio status, activity list, resource allocation and assignment allocation. You can also track costs. All reports can be printed and created in word, excel or pdf.
Closing the project
Transmission phase
Your project is creation of a new product. This marks the end of project execution and the beginning of project closure. For this reason, it is necessary to check that all delivered products have been identified, completed and handed over to the appropriate party.
Confirm completion
The project is not finished until everyone confirms. You need to get confirmation from all stakeholders, clients, even the team. This means check-outs to avoid confusion and last-minute change requests on the project.
These unsubscribe documents can be added to kendomanager.com, either in the documents section or attached with the appropriate task (activity). You now have digital documentation to make sure everyone agrees.
Documentation review
Usually the project manager (project manager) is responsible for reviewing all contracts and documentation to make sure everything is in order and signed. Sometimes in larger organizations there is a person who is the administrator (manager) for this job.
Freeing up resources
Before the project can actually be completed, you need to officially dismiss the team, all contract workers, hires, and so on. You need to have a procedure in place to inform and ensure that all project participants are paid.
Post-mortem
Post-mortem is when you look at a finished project and single out a process to record what worked and what didn't. This is a great way to replicate successes and fix mistakes for the next project. Also, don't forget to celebrate with your team. They deserve it.
The Triple Constraint
No project management guide would be complete without mentioning the triple constraint. The  triple constraint in project management relates to time, project scope, and costs. Time is your schedule, the scope are the tasks (activities) needed to achieve the project goals and the cost of funding or project budget.
You can see how important this is for any project. The three points of this triangle always influence each other.  If you fail in time, you will need to adjust the scope or cost. The same goes for other points.
The success of any project rests on these three pillars. Although managing the triple constraint  does not ensure a successful project and there are many other factors at play, these are the three basic pillars that must be managed, otherwise there will be problems during project implementation.
Project management tools
Today, the world is much different than when Henry Gantt lived, where project schedules were made by hand. Since then, project management tools have developed significantly.
A wide scope of project management tools, whether online or mobile, are accessible to you nowadays to help you with managing your projects.
Gantt Chart
Today's Gantt charts are interactive and collaborative, but they have retained their basic structure, which is the spreadsheet on the left and the timeline on the right. The tasks in the Gantt chart are listed on the left and fill the time bar, and the status bar extends from the start date to the end date. They are used for planning and scheduling projects.
However, the Gantt Chart can do much more, like the Gantt Chart of the Kendo Manager Network, which empower and help you to set milestones, allocate, and connect dependent tasks. By dragging and dropping, editing can be easily done.
Control dashboards
Basically, the dashboard is a compilation of project data, such as budget, task status, team workload, and overall plan status. It provides a high-level view of the project and shows its progress which is mapped in several metrics.
The dashboard is a perfect tool for informing stakeholders about a project because they generally don't want to go into small details.
Task list
Project management tools are used to manage tasks, assign them, and track project flow to make sure they meet project schedule requirements. Good project management software will give teams more control over their tasks and managers more transparency in the process.
Kendomanager.com allows teams to see their tasks and only their tasks on a personal dashboard. They can then monitor their upcoming tasks, update tasks as they complete them, and send messages or leave comments to the team leader as needed. Kendomanager.com encourages team collaboration, whether working in the same office or remotely, so they can collaborate more productively.
Project calendar
A project calendar is a practical way to keep track of deadlines and other important milestones in a project. It is related to the projects schedules and its time schedule.
Kanban board
Kanban is a visual tool for tracking project activities that was originally used in production. This means that work is ready only when the resources and capacities are ready for it.
The kanban consists of a panel with columns representing the production cycle and a card below those columns representing the tasks. The cards are then moved from column to column as the job is scheduled, performed and completed. Kanban ensures transparency and keeps teams focused on the job at hand.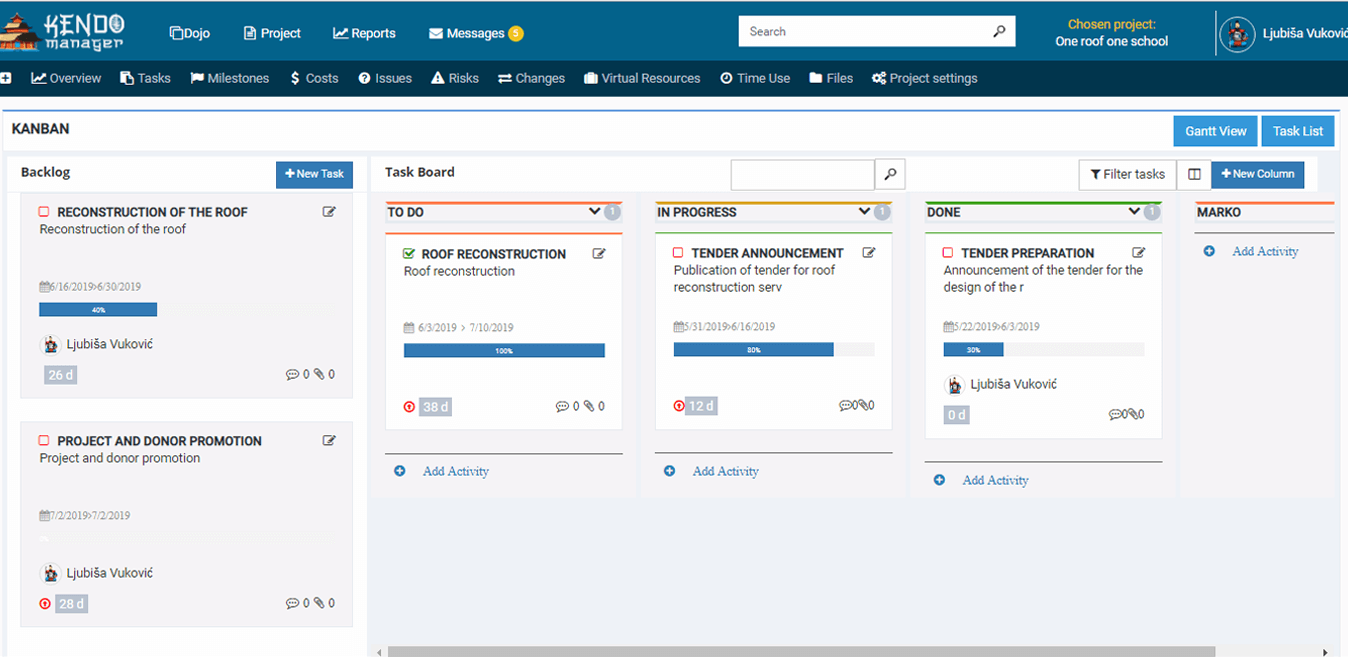 Workload tools
Workload is the assigned amount of work. Sometimes the workload is poorly distributed and while some take the greatest burden, others remaine relatively idle. Such a condition leads to an unbalanced load. When assigning and executing tasks, it is important to know how much work each team member is responsible for.
Kendo Manager solves this with its Dojo and Sensei CEO dashboards page that shows all active processes in real time.
Resource management software
Resources are all you need for a project. That means tools, equipment, supplies, and even people. Resource management and resource availability as needed is an important segment on any project. It is especially important when it comes to external suppliers. For this reason, you need a tool that tracks use of resources, how much they cost and when you will need them in the project.
Timesheet
Monitoring the working hours of team members or contractors is part of the responsibility of the project manager. Project managers need a tool that can track working hours and then submit them for approval to make sure they are all paid on time for the work they have done.
Project Management Collaboration Tool
Effective communication enhances teamwork and increases efficiency and productivity. It can be difficult when everyone is in the same room, and especially when team members are in different time zones.
Whether your team has a lot of remote workers or external clients or is mostly internal, using collaboration tools can drastically reduce time and help maintain vital project communication with the project. This can be especially useful when working on a post-mortem project or when simply looking for key project documents and having conversations about a larger project.
Kendomanager.com facilitates collaboration with essential options such as document sharing and commenting.
Roles in project management
Projects are not just tools and phases: projects are made possible by people. These people have to do certain jobs.A project works best when all these roles are well described. Although there are project management methods that allow for greater fluidity, these are the main roles in the project:
Project sponsor
This is the person responsible for the outcome of the project. Project sponsors are often senior managers who came up with the idea for the project. For example, a sales director would sponsor a project to promote the emergence of a new online sales tool.
Ultimately they represent the buyer of the project. Depending on the organization, there may be different levels of project sponsors, such as e.g. executive sponsor of the project.
Project manager
Project Manager is the person in charge  for leading the team and organizing the work.In more formal, better constructed organizations and on more extensive, complex projects, the project manager is usually certified with an appropriate certificate such as a PMI certificate.
In informal organizations, a certificate is not required from the project manager. Planning, monitoring and reporting on the project, including resource planning, cost estimation and much more are responsibility of project managers.
Supplier
Someone is doing the work, and that could be an internal vendor, like a development team or an external contractor. The supplier in the project team is represented by the main contact person who could be their technical expert, account manager or project manager.
Team member
This is the person tasked with carrying out part of the project. Team members are very proficient professionals who work to contribute to the goal of the project.
Their task is to complete the delivered results and work with the user to understand what their business needs are and how to meet them.
Stakeholder
A person or group that has a personal interest or "share" in the project is called –  stakeholder. It can be an internal group or agency in the organization or it can be the general public for a public works project.
The project manager typically works to communicate the project to stakeholders throughout the project life cycle and seeks feedback on delivered results and implementation, while managing their expectations.
Clients
This is the group or person for whom the project is delivered or a key component of the project.
Project management processes
Roles in project management are the people who manage the processes. Although we touched on this topic earlier, it deserves more attention.Processes underpin the life cycle and also support you in moving the work along the life cycle til the goal is achieved.
The project management processes that you will see recurring are:
Risk management: The risk management process helps you identify what might go wrong with your project, and then define the response so that you have contingency plans in place. This is normally applied to large-scale projects rather than smaller ones. Although even small teams would need proper synchronization with the team to help identify potential problems in the plan. In this way, they would protect themselves from the unexpected and have action plans in case an unforeseen situation occurs.
Problem management: A problem is a problem that has occurred (other than a risk because it has not yet occurred). Problem management is the way you solve problems when they arise on your project. In the project, it is worth considering how actions will be taken to solve the problem, because there is a high probability that problems will occur during the project implementation.
Problem management involves processes such as: who should be informed, what decisions are in further proceedings and who is authorized to take measures to resolve the problem.
Change management: Every project has changes. Sometimes this is because the goal was not particularly well defined at the beginning.Or maybe the business strategy has had some changes and the project needs to be updated appropriately. The change process helps you incorporate them into your project plan with the least amount of trouble.
Procurement Management: Many projects involve working with suppliers, and there is usually a process around contracting and contracting with them so everyone knows what to expect and what you get for your money.
Communications: Yes of course, communication is also one of the processes! You need to identify who needs to receive which message when and which mode of communication is most appropriate. A communication plan will help you with this. A communication plan will help you keep up with your project in the fastest and most efficient way.
These are the most common processes that occur in project management, but you can also create your own custom processes to help you deal with the "whims" of your organization. It is crucial to ensure that you do not start over every time and that you introduce standardization in the way you manage projects as much as possible.
Project management methodologies
To save you from wandering around for the right methodology, here are some common and proven approaches to project management:
Waterfall
The waterfall model is a linear approach for doing the job. You arrive at a request, put together a design, build a solution, test and implement it, and then move it into the maintenance phase.
Good for: projects for which the requirements are clear or small changes are expected along the way.
Avoid when: you don't really know and you're not sure how you will achieve the end result, and the requirements are not clearly defined.
Agile
Agile is often used in software projects, but is increasingly common on other types of projects, such as marketing. It involves operative work in short periods of time called "sprints". The job is time-limited and the team does as much as they realistically can before moving on to the next set of requests.
Good for: projects you want to incorporate quick wins into and build it iteratively.
Avoid when: you are working in a traditional environment and the change of agile methods is not yet complete or even understood.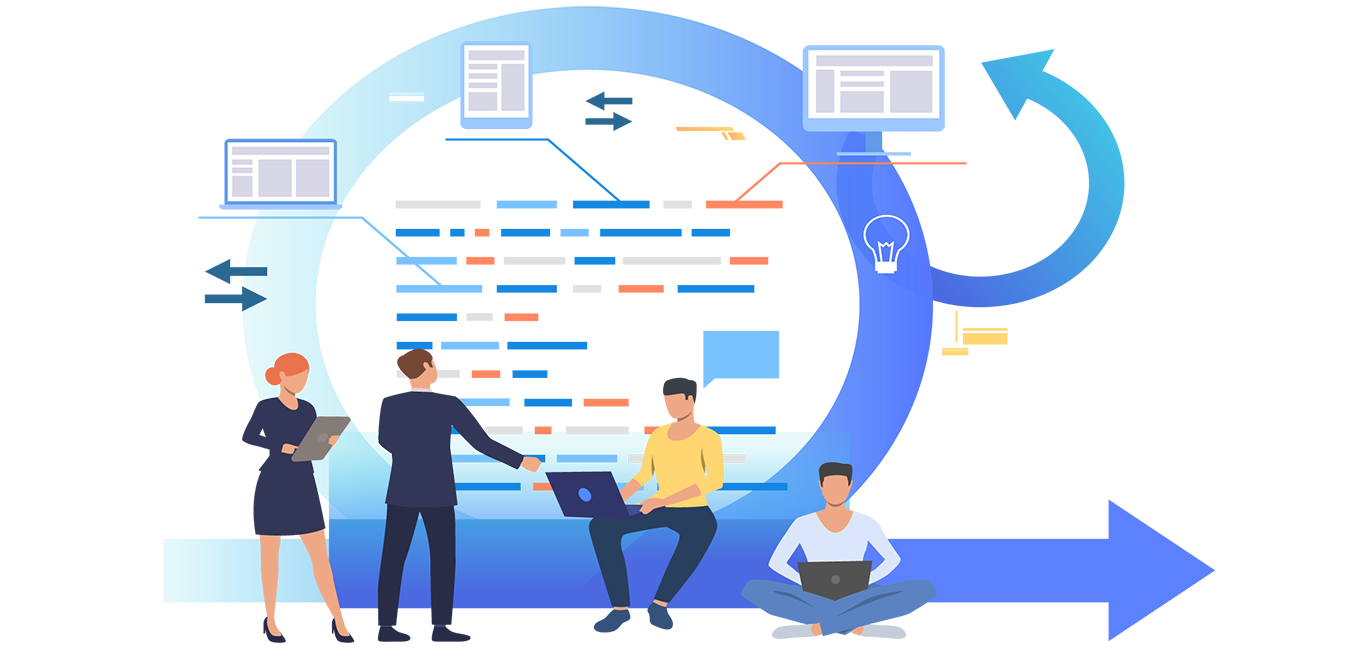 Lean
Lean  can mean a few things lately, from the emergence of the Lean Startup movement, which prefers an iterative point of view of product development and involves conducting  end users early, mostly for project delivery feedback.
In traditional project management, Lean PM is a way of removing waste in processes and ensuring that the people involved work together efficiently. Lean simplifies handovers between teams, eliminating delays.
Good for: process improvement projects and critical initiatives to focus on.
Avoid when: you are not sure! Any work can benefit from trying to make the processes involved as simple and easy to use as possible.
How to become project manager
Project managers are leaders. They must motivate their teams as well as plan, monitor and report on their project progress. It is a job that requires a lot of work. They must have strong social skills and be capable to connect with stakeholders and the project team.
Formal project managers are usually certified through an agency like PMI in the US or PRINCE2 in the UK. After certification, they must maintain their certifications by acquiring additional training to collect the target number of Professional Development Units (PDUs).
As we mentioned, qualification standards for certified project managers have recently been expanded to include more leadership and business skills. PMI certifications and PDU standards can be found in the Project Management Knowledge Guide (PMBOK® Guide) – Sixth Edition, or on their website. However, certification is not always a condition, it can be something that is acquired later in someone's career. Most project managers usually start with a degree from an appropriate faculty or with some experience in the field to which the project relates.
FAQ – Project management history

You might think of project management as a fairly new discipline, but in fact people have been managing projects since ancient times, before the Great Wall of China, before the Roman aqueducts, before the Giza pyramids, and most likely we can say before that. It is unthinkable to think that the pyramids were built in an ad hoc way. Instead, you can bet that there were plans, schedules, teams, budgets, and everything we would recognize today as project management.
The standardized discipline of project management began to really emerge in the 1950s. Until then, many industries had implemented structured management and production processes. Henry Gantt's Gantt chart was already in use and was a popular choice for scheduling, and Dupont Corporation added scheduling knowledge by developing the 1957 Critical Path Method, which helped people understand which task on the plan had the least flexibility around the date.
Since the 1950s, people have been managing projects for years, often using custom methods and designing processes themselves. This changed when the Project Management Guide (PMBOK® Guide) from the Project Management Institute (PMI) was accredited as an ANSI standard in 1998.
Major changes in project management have also taken place in recent years. First, there is now the ISO standard for project management (IS21500) that appeared in 2012. But the biggest change of all is the shift from scheduling learning and technical project management skills to recognizing that people matter on projects.
The knowledge base for project management is constantly growing. The 2017 edition of the PMBOK Guide (sixth edition) contains a section on the resource control process and updated sections on project supervision and work, control scheduling, control costs, quality control, and procurement of controls.
In 2016, PMI introduced a completely new set of competencies for PMP certifications and PDU requirements called Talent Management. Traditionally, professional project managers (PMPs) have been required to demonstrate basic skills in technical project management. They are now required to presentation more extensive business management techniques such as strategy and  association with customers or leadership competences such as coaching and emotional intelligence.Current project managers should be more like mini-executives, with the ability to be both tactically and strategically oriented across the project spectrum.
Project management: the end of the beginning
Project management is a massive endeavor composed of disciplines complex enough to offer a lifetime of study. Anyone who is serious about project management knows that this is just the tip of the iceberg. There is a wealth of project management that we have not currently processed or we have only processed superficially.
But now you know what makes project management crucial and if you're interested, it can be a skill that will inevitably fascinate and frustrate you. Still, you will never be bored. Just don't be complacent, you can always learn something new.