Kendo Manager Change Management  
Kendo Manager Change Management  aims to continually creating of positive changes in project. Managing changes is the part of assignments performed by Project manager.
You can register the changes using the option Changes, to deliver the changes to team members and to define time frame for their solving.
Choose Project –Click on Changes – New Change to receive the form for creating of Change.
2. Fill the form and click the button Save. After you created  Change, you  will get and other options in the left menu.
3. Click on tab Team members. In the field  Select team member choose the user (just one letter to insert and the list with user is appeared). Click the button Add  and assign  Change to team member who has to solve it . Assigned change is automatically appeared on dashboard of the user ( paragraph 2.2). The user automatically receives an  e-mail with notification on assigned change.
If the Change is connected to certain task, click the option Tasks and add task.
5. The option Comments serves to discussion between Project Manager and Project team member who is responsible for realization of the Change . Also, the comments can be posted by other team members.  . Posted comment can be deleted only by a person who posted a comment.
Note:
The assigned change is solved. Team member post a comment and informs project manager via message(Notify Users). After receiving the information, project manager carries out the control, select check box finished and enter the date in the field solved if the Change was successfully finished.  .
Based on his action, the process on dashboard will automatically move to the list Changes Finished (Manual , My Dashboard).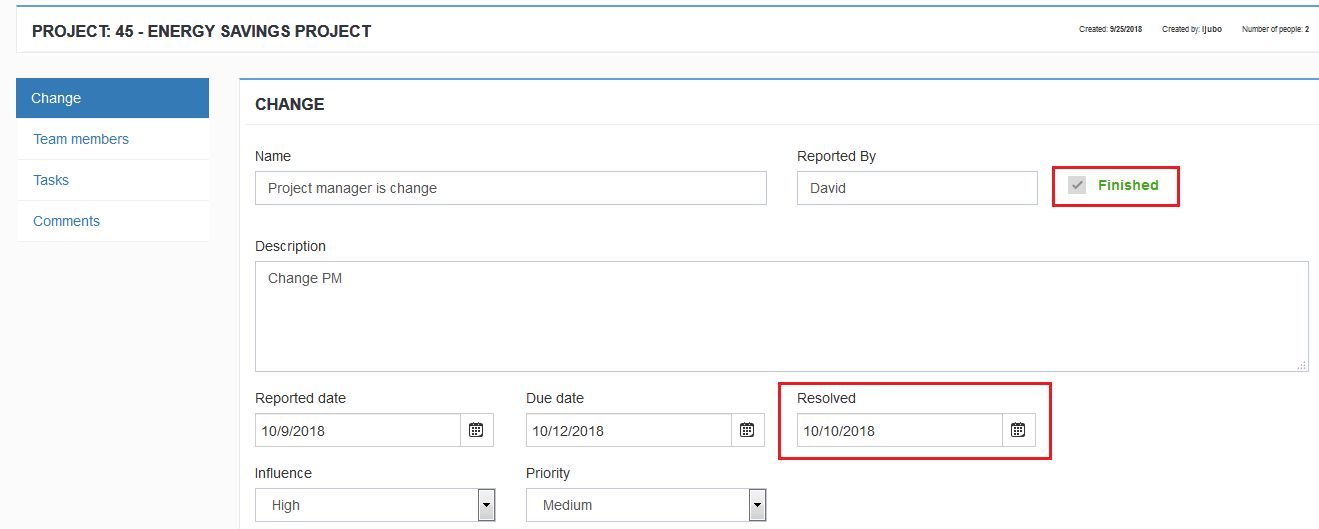 If Project manager wants to reactivate the change , you have to deselect check box finished, to delete the date in the field solved , to change the deadline if it is expired, to save the change and inform the team member via message (option Inform the user).