On-Premise Project Management Software
On-premise project management software provides a centralized management of projects for companies and PMO (Project Management Office) while offering controlled access for different users. Kendo on-premise project management software comes without any additional software investment/setup cost for company or PMO. You can install it on any Windows Server, Windows VPS or Windows 10 PC.
Our Project Management  software is based on traditional project management methodology. We follows the PMBOK guidelines and recommended of Project Management Institute.
Kendo is a flexible On-premise software solution for managing projects of any type. Whether you are working in construction, services, consulting, engineering, business or software development, Kendo will help you complete your projects on schedule, on time and on budget.
On-premise Project Management Features
Kendo Manager has many options such as:
Our On-premise project management software is designed to help companies to successfully completed own project plans, allocate resources and analyze workload.
Also, our On- premise software is an ideal solution for project management office (PMO) and their Project Portfolio Management, Resource Management and Team Collaboration.
Successful PMOs Need the Right Project Management Tool
According to Management Study Guide, "Project Management is the art of managing all the aspects of a project from inception to closure using a scientific and structured methodology.
A successful PMO will need the right Project management tool to support their work. Kendo Manager is a On-premise project portfolio management software that provides easy resource management, real-time scenario planning, and portfolio comparison so PMOs can manage and plan portfolios.
Our On-premise software has Dojo dashboards that give you instant bird's eye views into the health and progress of all your active projects. You can:
Monitor plan progress
Track costs
Track time
Track Risks
Track Issues and changes
View resource availability
View all active tasks
Keeping your plans on track has never been easier.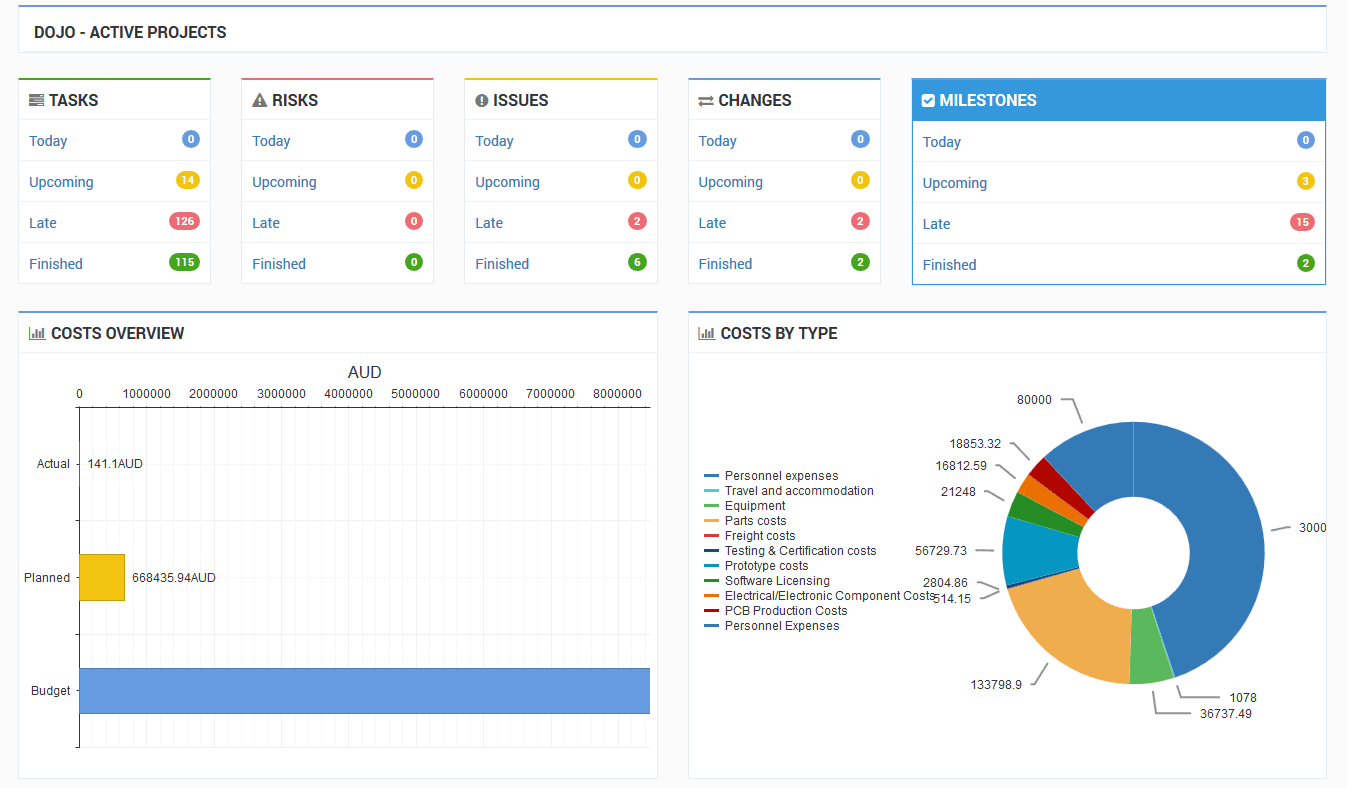 To see why PMOs love Kendo Manager, start a free 30 day trial or download a Free version.
What Is PMO Software
PMO software is a term for the tools and features within project management solutions that enable your project management office to accomplish all the processes effectively.
PMO Software provide support to management, help to keep projects on track and make sure every action is compliant with regulatory rules and standards. When you have the right PMO software, it's easy to avoid operational risks, budget effectively and monitor productivity.
Kendo Manager is the best on-premise project management software for your Project management office with all option that you needed for successful operation.
What's better: On-premise or Cloud Project Management Software?
The simple answer is: it depends.
Every job is different, and the right solution depends on what your  problems are. Is your budget the most important consideration? Security? Or maybe,  simple communication and collaboration? Each company has different priorities and needs.
Advantages of On-premise Project Management Software
Our flexible project management software allows you to maximize your project and portfolio management investment. Whether you are looking for a Self-Hosted or an On-Premise project management, Kendo Manager Project Server provides multiple delivery options in line with your infrastructure with a low barrier of entry.
Access anytime, anywhere – Running the application only requires access to readily available web browser software such as Firefox, Chrome or Internet Explorer.
One time investment – You pay for the application licenses once and a low annual maintenance fee for support and upgrades (this is optional)
Shareable – Data can be shared with staff and other business partners. However, you control who has access to what.
Secure – The applications are hosted on-site behind your firewall and are aligned with your company backup and security policies.
Data accessibility – Since the data resides within the four walls of your company there are no barriers of access to extract data from the system.
Check our project Management tutorials – This  Training Videos will help you understand what is Kendo Manager Project Server.
Free On-premise project management software for companies
And that's not all, if you have started a startup company, and you are looking for on-premise project management software to install on your private server for free. We have a solution for you – Free Kendo project management software. Kendo Manager offers a FREE  Project Management Software version for 1 active project and 2 active team members. Later, when your company has a larger team and more projects you can easily Contact Us and buy a license and unlock Kendo Manager for multiple projects and team members.
Check our reviews on Capterra!