Kendo Manager uputstvo za instalaciju na Windows OS
UVOD
Kendo Manager je web aplikacija koja se može instalirati na bilo koji Windows web server, VPS ili Windows računar . Kendo Manager je pogodan za sve vrste projekata, bez obzira na veličinu tima ili kompleksnost projekta. Jednostavan je za korištenje i ne zahtijeva skupu obuku  zaposlenih.  Kendo Manager olakša će vam upravljanje vašim projektima. Ako ste velika ili mala kompanija, vladina institucija ili nevladina organizacija, Kendo Manager softver za upravljanje projektima pomoći će vam da organizujete svoje projekte, svoj tim i pružiti vam pregled projekata u realnom vremenu.
Sistemski zahtjevi
Sistemski zahjevi za instaliranje Kendo Managera,
Hardverski zahtjevi
Min: Intel Dual-Core Processor
RAM: Minimal 2 GB or more
Sofverski zahtjevi
Windows VPS, MS Windows 10, MS Windows Server 2008, 2012, 2016 or Asp Net Hosting (contact us).
MariaDB 10.1.20 + or MySQL(contact us)
IIS 7.0, 8.0, 10.0
MySQL Connector
.NET Framework 4 +
KORAK 2
Step 2 . Instalacija IIS na Windows 8 i Windows 10

IIS nije podrazumevano instaliran u operativnom sistemu Windows 8 i 10. Kao rezultat toga, morate ručno instalirati IIS na vašoj mašiniili serveru.
Napomena : Ukoliko imate instaliran IIS preskočite ovaj korak

Instalacija IIS
IIS u operativnom sistemu Windows  10  još uvijek je opcionalna "Windows funkcija". Da biste je instalirali, pritisnite kombinaciju tastera Windows + R da biste prikazali polje za pokretanje. Nakon toga kucajte appwiz.cpl i pritisnite Enter.
Ovo će otvoriti sekciju  program i funkcije kontrolne table. Na levoj strani,kliknite na vezu "Uključi ili isključi funkcije Windowsa".
Sada, jednostavno kliknite na funkcije koje su označene na sledećim ekranima, a zatim pritisnite dugme OK.
Nakon što kliknete na OK, pojaviće se dijalog na ekranu  Applying changes.
Kada završite, pokrenite Chrome ili firefox i upišite http://localhost/. Nakon toga pojaviće se default strana IIS-a.
KORAK 3
Korak 3.

Instalacija Maria DB na Windows 10 ili Win Server 2008,2012,2016
Postupak instalacije za MariaDB je isti za Windows 8, 10 i Windows server 2008, 2012 i 2016
Idite u  Kendo Manager instalacioni folder  i instalirajte MariaDB.

Dvostruki klik na instalater da započne proces instalacije.
Napomena: MariaDB takođe možete preuzeti i sa adrese: https://downloads.mariadb.org/
Označite License Agreement i kliknite Next

Kliknite next on custom setup
Upišite lozinku za korisnika "root" baze podataka

Kliknite Next za sledeći korak

Kliknite Next na  Other Database Properties
Na Ready to Install. Kliknite Install
Da bi ste završili instalaciju kliknite  Finish
Napomena: Više informacija o MariaDB možete pronaći na: https://mariadb.com/kb/en/library/installing-mariadb-msi-packages-on-windows/
KORAK 4
Korak 4. Instalirajte MySQL konektor / NET



Otvorite Kendo Manager Folder. Kliknite dva puta na installer da pokrenete instalacioni proces.
Nakon toga kliknite  Next –Izaberite Tipical i kliknite Install
KORAK 5
Korak 5. Kreiranje  Kendo Project Management baze i Elmah log baze podataka koristeći  HeidiSQL

HeidiSQL je Windows klijent za MariaDB i MySQL. Uključen je uz Windows verziju MariaDB od MariaDB 5.2.7
Kliknite na ikonu HeidiSQL
Upišite vaš Root password i kliknite na Open
5.1.1. Kreiranje Project management  bazu podataka

Kliknite na  File, nakon toga na  Load SQL File opciju
Izaberite Projectmanagement Sql Fajl iz Kendo Manager – Database foldera i kliknite Open.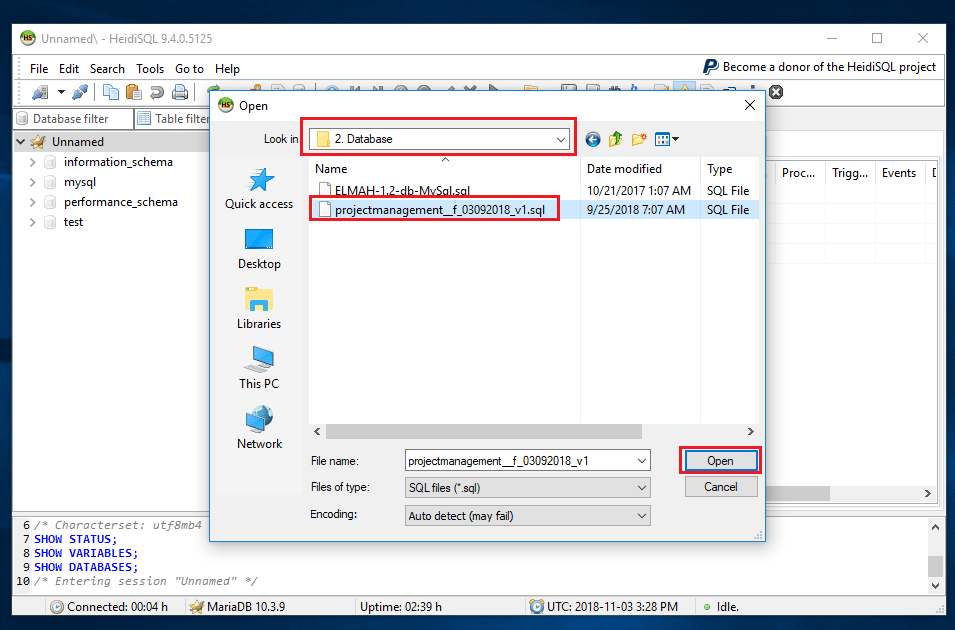 Zatim kliknite na dugme  Execute SQL

Kliknite OK dugme i osvežite prozor (F5).
Note : In the left frame you see project management database
Napomena: U levom prozoru videćete project management bazu podatka

5.1.2. Kreiranje Elmah log baze
Otvorite HeidiSql i kliknite na  File zatim kliknite na  Load SQL File opciju.
Izaberite Elmah Sql file iz Kendo Manager – Database foldera i kliknite na  Open.
Kliknite na  OK i osvježite prozor  (F5)
KORAK 6
Korak 6. Instalacija  Kendo Manager aplikacije
Otiđite u Kendo Manager folder i kopirajte  Kendo App folder u C:\inetpub\wwwroot
Otvorite  C:\inetpub\wwwroot i kliknite Paste da bi ste iskopirali Kendo folder
KORAK 6.1
6.1. IIS_IUSRS Folder dozvole
Otvorite C:\inetpub\wwwroot i dodajte za  IIS_IUSRS full permission( punu dozvolu ) na foldere App_Data, Files i folder repository.
 App_data folder full permission

Klinite desnim tasterom miša na  App_data folder i izaberite Properties
Kliknite na  tab Security zatim kliknite na  Edit.
Dodajte full control za IIS_IUSRS usera i kliknite OK.
Files folder dozvole

Kliknite desnim tasterom miša na folder Files  i izaberite Properties i kliknite na tab Security. Selektujte  full control za IIS_IUSRS i kliknite OK.
 Repository folder dozvole
Kliknite desnim tasterom na Repository folder izaberite Properties i kliknite na tab Security i selektujte full control for IIS_IUSRS i nakon toga kliknite OK.
KORAK 6.2
6.2. Web config podešavanja
Otiđite na  C:\inetpub\wwwroot\kendo i otvorite web config sa note editorom da biste podesili config file.
Napomena : Prporučujemonote editor  Notepad++ (https://notepad-plus-plus.org )
Desni klik na web config da bi ste otvorili  file u  note editoru
6.2.1. Jezička podešavanja

Kada otvorite web config prvo morate postaviti postavke za jezik. Osnovni(default) jezik u Kendo Menadžeru je engleski jezik  ("DefaultCulture" value=" en-US "). Ukoliko želite Srpski jezik kao osnovni upišite sr-Latn-RS u string ("DefaultCulture" value="sr-Latn-RS").
Trenutno, Kendo Manager podržava :
Engleski – ("DefaultCulture" value="en-US").
Engleski za Australiju – ("DefaultCulture" value="en-AU").
Nemački – ("DefaultCulture" value="de-DE").
Španski –  ("DefaultCulture" value="es-ES")
Srpski latinicu – ("DefaultCulture" value="sr-Latn-RS").
Hrvatski – ("DefaultCulture" value="hr-HR").
Bosanski – ("DefaultCulture" value="bs-BA").
6.2.2. SMTP Podešavanja (settings)
Mail server podešavanja služe da podesite automatsku email notifikaciju, emaili mail koji služi za slanje obaveštenja.
Primer SMTP podešavanja ako koristite  Gmail account

Napomena:
Da bi ste slali obaveštenja preko  gmail SMTP potrebno je da imate uključeno "Allow less secure apps: YES".
nakon toga kliknite Allow less secure app to YES
Važno: Kendo Manager ne podržava SMTP preko porta 465
6.2.3. Database connection string
Prvo morate upisati  root lozinku u String za konekciju sa bazom ( connections strings)
Upišite Root password u prvi red stringa za konekciju  i kliknite Save

Upišite vaš root password
Upišite vaš 

Root password u

2,3 i 4 red connection stringa i kliknite Save

Napomena:
Kendo web config  je unapred definisan za podrazumevano bazu projectmanagement  i elmah log bazu a koju ste prethodno kreirali koristeći HeidiSQL ili phpMyAdmin. Potrebno je samo morate uneti lozinku za root korisnika. Ako kreirate bazu podataka sa drugačijim imenom i korisnikom, potrebno je promeniti podatke za naziv baze i za korisnika baze. Ako vaš root korisnik nema lozinku, ostavite polje za lozinku prazno u web configu.
KORAK 6.3
6.3. Dodavanje Kendo Manager App u Internet information server (IIS)
The procedure to add a new website to IIS (Internet information server) is the same no matter which operating system you use (Windows 8/10 or Server 2008,2012,2016).
Postupak dodavanja nove web aplikacije na IIS (Internet informacijski server) je isti bez obzira da li koristite operativni sistem Windows 8/10 ili Server 2008,2012,2016).
kucajte IIS u Windows 10 search box i  kliknite na Internet Information Server
kliknite na IIS Manager da ga  otvorite

Za početak , označite default  IIS website i kliknite na  Stop default IIS web site ukoliko želite da koristite port 80. da nebi došlo do konflikta, neophodno je da zaustavite default IIS website.
Dodavanje Kendo web aplikacije na IIS

Expand the tree na  connections column.
Desni click
Kliknite  Add Web Site…
Podesite novi  Kendo Manager Website kao na slici

Napomena:
Prozor prikazuje incijalnu konfiguraciju .
U polje Site name, upišite  Kendo Manager za naziv website.
U Physical path selektujte putanju do Kendo foldera. c:\inetpub\wwwroot\kendo
U binding set, ostavite defaultno kao na slici .
izaberite: Select HTTP ili HTTPS ako vaš server koristi SSL Certificate.
IP Address: Select your IP here. When using Windows 10 verovatno koristite računar u lokalnoj mreži a koji koristi  lokalni IP kao npr 192.168.14.123 .
Port: 

Ovo ne treba mijenjati osim ako je potrebno

da umesto port 80 koristite neki drugi  port
Host name: Ovo bi trebalo da bude vaše ime domene.

Ako ga nemate i želite koristiti vašu IP adresu, ostavite polje praznim.
KORAK 6.4
6.4. Konfiguracija za Kendo Application pool
Izaberite .NET Framework 4 verziju   Kendo Application Pool
Selektujte Kendo Manager Aplication pool – kliknite na Advanced Settings – identity i selektujte   Network Service. Selektujte .NET framework version 4.0 i kliknite OK.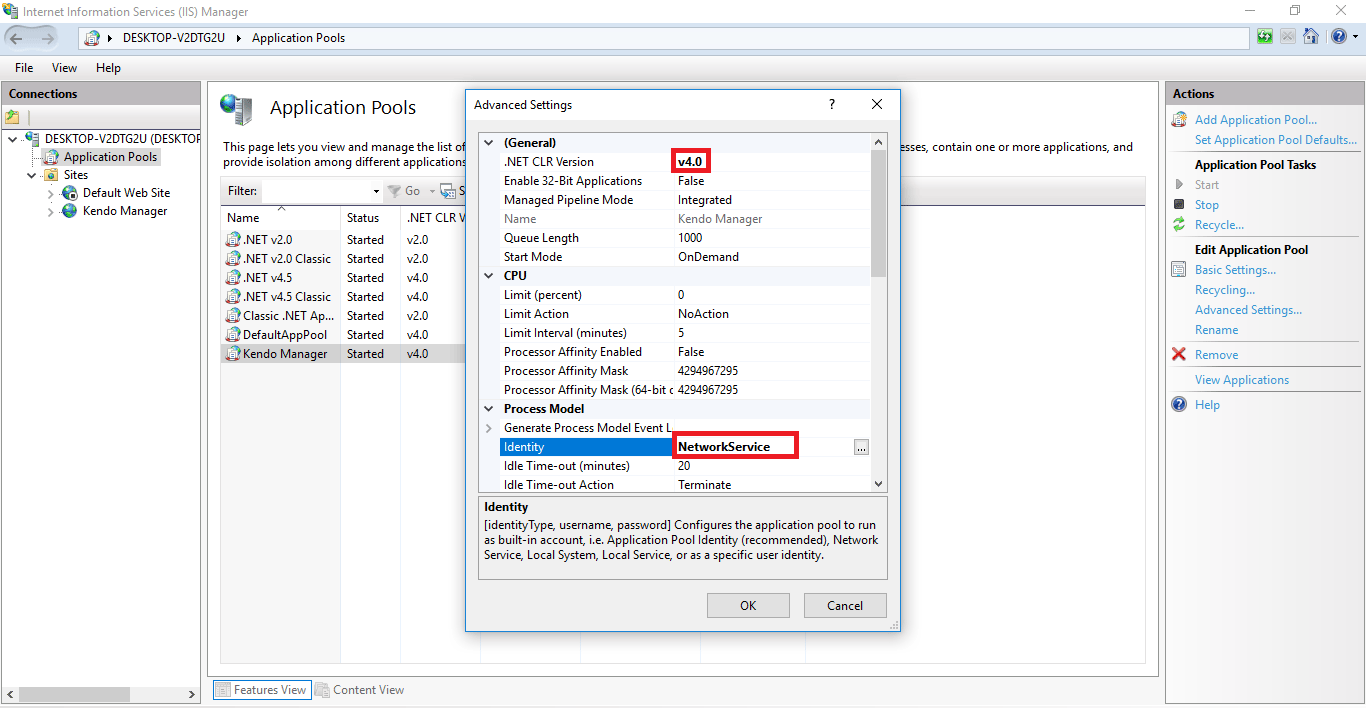 6.4.1. Preporučeno podešavanje za  Aplication pool

KORAK 6.5
6.5. Kendo login data
Kucajte http://localhost in browser i kliknite  enter. Ukoliko ste sve podeesili ispravno pojaviće vam se Kendo Manager Login strana.
U login formu kucajte default login podatke i  kliknite  Prijava:
Username : admin
Password : admino
čestitamo, uspješno ste instalirali Kendo Manager na svoj PC/Server.